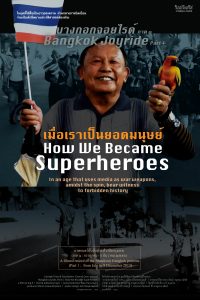 EXCLUSIVE to Cinema Oasis! Thailand Premiere
Bangkok Joyride 1:
How We Became Superheroes
What propelled millions of ordinary people to rise up to save their country from becoming a failed state? Shot mostly on an iphone by a crew of one  but with a cast of millions, 'How We Became Superheroes' is Part 1 of 'Bangkok Joyride', an epic documentary record of the epic anti-government protest of 2013-2014, now becoming forbidden history both in and outside Thailand, when millions of ordinary Thai people lost all fear of death to occupy the central streets, public parks and government buildings for 7 months while barely making international news; and how, unlike the celebrated 'Arab Spring', it was maligned by the Western media as an evil elite movement against democracy itself.
This is not the story of protest leaders as Shutdown Bangkok gathered steam; the leaders are barely visible amid the multitudes.  These ordinary-become-extraordinary people are the stars of the film, which covers the pivotal period including the collapse of parliament, from July to 9 December 2013 with an immediacy of first-hand experience. No explanation, no opinion. If you missed it, you can now live it; if you were there, relive your memories. You might even be starring in the movie, since this is no legend of ancient kings but the contemporary heroism of ordinary people turned superheroes.
Thailand Premiere
(World Premiere in Paris at Cinema du Reel 2017)
cameraman-editor-director: Ing Kanjanavanit
post-production: Navi Hanumahn
producer: Manit Sriwanichpoom
Jai Singh Films
http://m.rfi.fr/culture/20170608-ing-k-cineaste-thailandaise-bangkok-joyride-lutte-contre-menteurs-puissants