Sleepless
Philippines/ 2015/ 120 mins
Filipino & Tagalog with English subtitles
Film critics don't give in to guilty pleasures easily but when a film like Sleepless keeps them awake, that's almost like a clarion call. Debut filmmaker Prime Cruz infuses Sleepless with real life issues and millenial foreboding. He goes on the charm offensive with his two leads,
Glaiza de Castro (a Filipino dead ringer for Sandra Bullock if you close your eyes long enough to hear the laugh) and Dominic Roco (son of iconic 70s New Wave actor, Bembol Roco) and then miraculously, he leaves you hanging.
In the new millenium, has anyone wondered why call centres have sprung up in an age when nobody sleeps? Did sleeplessness come first or did the call centres? Whatever it is, there is more nighttime activity than ever before, from dining, shopping to skateboarding and to old-fashioned sex.
Scriptwriter Jenilee Chuaunsu has our two protagonists trying to forget themselves in their call centre job only to realise that it's their loneliness that keeps them awake; she from an affair with a married guy and he with a young son from an ex-lover in a foreign country.
It starts with sharing cup noodles at a 7-11 all-nighter, to nervous wishful thinking (via animated cartoons) till a liberating midnight skateboard run. The closeness and connection seem inevitable but then, this is the new millenium remember?!! Attachments are passe. Life is an onward motion that lulls you from one dream to the next. The problem is not even about being sleepless. It's about wondering whether you are fully awake. The way out as always is the way in. – Philip Cheah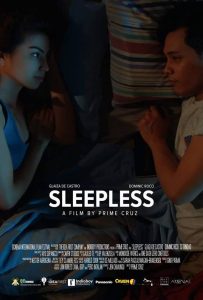 Director: Prime Cruz
Screenplay: Jenilee Chuansu
Music : Bp Valenzuela
Cinematography: Tey Clamor