The Write Moment
Philippines/ 2018/ 80 mins
Filipino & Tagalog with English subtitles
Not merely a brilliant parody of the Philippino culture of romance from accomplished writer-director Dominic Lim, 'The Write Moment' is easy to enjoy but difficult to describe. Its story-telling mastery and assurance is visible at first sight: a cheesy karaoke video of a break-up song which introduces Joyce and Dave as they frolic in fields of green.
A jump cut in perspective: now Dave is behind a camera, shooting 2 actors rehearse cantankerous lines of deathless love. They're a bridal couple performing their pre-wedding video. It's 4 a.m., they hate his overblown script, and outside in the carpark poor old Joyce is sleeping in the car, waiting for her boyfriend to finish his worthless work. Fed up, bored, she breaks up with him: "It's not you, it's me"/ "Don't feed me that cliché, that's so cruel!"/ "Dave, you're a nice guy but I'm sorry." All clichés from a grade B romance but done so well. Cut to the wedding as the bride and groom kiss but the focus is literally on Dave the wedding videographer, in charge of this romantic production but clearly elsewhere with Joyce. Dave is the scriptwriter, mapping every development, trying to control the outcome with an eye on The Happy Ending, never able to just be in the moment.
He tries out different scenarios, the most obvious first. Outside her window in the pouring rain, he shouts out his love in crappy lines in the pouring rain. Joyce's calm reaction: "You can't use romance to solve anything…We're not characters in a movie," she advises and goes back in the house, leaving him in the Hollywood rain.
To get it right, to get her back, Dave writes and writes until the clock melts, Dali-style. The lines disappear and the script resets, over and over. The office scenes are priceless. Holding the day's script, he reads aloud its instruction: "He splashes water on his boss." He does so as the whole office looks on immobile, like cut-outs of underdeveloped characters.
But Joyce's no-sex rule bars further progress. He tries to rewrite her over and over to get her to have sex with him again. His impatient Take 2 response to her no-sex rule: "Eat my manhood." Take 3: "Oops, there goes my underwear. Your move." Last Take: "Let's go to sleep", to which she responds, "Good idea." She lays her head on his chest as he holds her in his arms, eyes wide open, motionless. Every possible pleasure is milked out of Joyce's no-sex rule including an amazing no-sex erotic scene in which his words alone, on the beauty of a sunset, had the power to give her the most intense orgasm of her life. The movie's outrageous hilarity—the scenes with her parents, the hill resort stay, the ridiculous marriage proposals—riffs off its stone-cold sober and sensitive soul. Philippino cinema is clearly more than healthy; it's far ahead of the curve. [Alice Skinhead]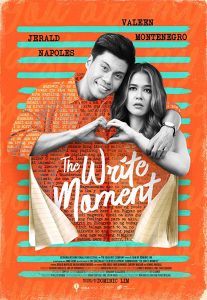 Director: Dominic D. Lim
Writer: Dominic D. Lim
Cinematography: Tey Clamor
Editor: Galileo Te
Music: Richard Gonzales
Cast: Jerald Napoles, Valeen Montenegro, Bob Jbeili, Dennis Padilla, Cherry Malvar
Producers: Vincent del Rosario III, Vic del Rosario Jr, Jun Robles Lana, Perci Intalan, Edilyn Abuel, Omar Sortijas, Phyllis Grande
Production Company: THE IDEAFIRST COMPANY
Trailer  : https://www.youtube.com/watch?v=ZMDz0YZZD0E
********************************************************

Director Biography:

Dominic Lim is a director/scriptwriter currently under The IdeaFirst Company, a creative content company led by internationally awarded filmmakers Jun Robles Lana & Perci Intalan. The Philippine-based company has already produces feature-length films and has also created television programs for Philippine network, TV5, as well as Cignal Entertainment.
His most recent writing credits include: D5 Studios' online series "Forever Sucks" season 2, "Sabagay Life," Regal Films' "My Rebound Girl" starring Alex Gonzaga, and Jim Libiran's "Ninja Party." He also teaches basic scriptwriting and storytelling at the Asia Pacific Film Institute.
Director's Statement:
In the summer of 2012, I started writing a rom-com screenplay. It wasn't quite a script yet – mostly a story with some dialogue. A rough draft. On the surface, the story could have been seen as a lighthearted romantic comedy, even a parody of time loop romance films—but the story lacked an emotional punch for me back then.
I was finally able to finish it after a series of failed relationships over the years—this is the pinnacle of my catharsis (and fantasies) of somehow having the power to fix relationships with words alone. Us writers—we live & breathe words, but sometimes, words aren't enough to convey feelings. And thus, my story came to light. A writer-protagonist that writes the 'perfect' happy ending for himself, which isn't quite what he expected. Because life can never be exactly what we expect it to be.
I simply want to make something honest and heartfelt—and hopefully share it with a wide audience. The romantic comedy genre has been very close to me— I'm an idealist, even a hopeless romantic, when it comes to matters of the heart.