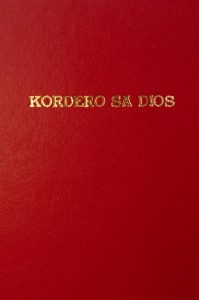 Lamb of God (Kordero sa Dyos)
105 mins, Philippines, 2012
Filipino with English subtitles
Almost immediately we see Divino's self-image: a naked young man in a lush tropical Eden with a serpent—The Serpent—draped around his neck like the Ancient Mariner's albatross. Dad's gleeful high-pitched cackle rings out. Two winged angels, one in black and one in white, can only watch as Dad leaves the bedroom zipping up, tucking away for now his fearsome macho weapon, barking, "Cook my food!" Mum the junkie viciously chops up an aubergine, though ever after the only thing we see her serve up is instant noodle. Divino's life of lovelessness and sin is flashing before his eyes; visions of purity embodied by the church. Meanwhile his supermacho tyrant dad is forcing him to dress in drag, and that's just Act 1.
The Bible's God magnanimously settled, at the last minute, for the blood of a lamb instead of the head of Abraham's son. Like its title, 'Lamb of God' is a hard-core sob story: how can a soul stay pure in such a cesspit? Cebu the city of the south whirls around its disco-lit epicenter, a fountain to a prominent citizen, like a cauldron being stirred. Glimpses of the real in snatched street footage: a man in a wheelchair trying to cross a murderous street; a skinny mad man staggering through the crowd with exposed crotch above his low-rise jeans who attracts no second glance; these leave no doubt that the lamb being led to slaughter is director Keith Deligero's homeland of the Philippines.
Divino's virginal girlfriend Jenny is one fire escape from hell. He coerces her into a sterile room at the Hope short-time Hotel on her dime but they're both too terrified to do anything. Walking her home past the gauntlet of Dad's nasty trio of macho drunks, they leer at her. Over whiskey at their little table in the lane, they boast of their sexual prowess with whores of different races which they'd sampled when they worked abroad. This indeed is a wilful dive into the cesspit. Their tall tales grow coarser and more hysterical, soon tinged with fear, of death and insignificance, whichever is more compelling. But Death ignores these oppressors and sends some rich kids in a car to abduct, gang-rape, torture and kill Jenny, dumping her remains in tall grass by the road like used tissue.
I'm unrepentant about giving all this way because so far this is the overture. The story truly begins when he hits rock-bottom, in prison for patricide. Yes, we see the YouTube sensation dancing prisoners of the Philippines. But that's in the exercise yard in sunshine. In the warden's room, Divino is turned into a painted trollop and history repeats itself. "Did you wash?" asks his protector the warden, the 'Mayor' of the jail, "You stank yesterday." In place of the black and white angels, the prison has Hitler-moustached Oca in the mafia corner while 'Commander Brando', a reformed rapist turned preacher, tries to save souls. By turns each prisoner becomes oppressor and victim, saviour and corruptor; all suffering humans. Not even the church can deliver, through its human priest, salvation.
The "Priest is hungry" litany, chanted Gregorian style, is a funny yet haunting invocation of Divino's disillusionment; a mantra for these grimy contemporary times, when all is fake except the pain:
"What a bad trip / I don't understand/ I want to eat! / I cannot swallow."
(repeat all 4 lines)
"I want to sleep. / I cannot sleep.." –as with longing for something true he gazes upon the cross.
In an orgy of sin, Divino dresses up in priestly vestments, eats all the consecrated host and drains the bottle of blessed wine, takes all the coins from the church that saved him from prison to pay for a night with two 'clean' whores, finally losing his hetero virginity, and all else, in this exorcism of sex and death.  It's a 'Breaking the Waves' kind of redemption; taking on the burden of the world's most vicious sins in one wilful act of surrender. (Alice Skinhead)
Director, Screenwriter, DP, Editor: Keith Deligero
Story: Danilo Nino Calalang
Cinematography: Lawrence Ang, Darcy Arguedo, Idden de los Reyes, Albert Jurcales
Production Design: Keith Deligero, Remton Siego, Zuasola
Music & Sound Design: Beejay Esber, Chuck Fournier, Bombo Pluto Ova
Producer: Lawrence Ang
Cast: Jandro Asuncion, Donna Gimeno, Aya Ng