Foundation Cinema Oasis
. 
.
……….

One could almost say this is the house that Shakespeare built. In 2012, the Thai government under PM Yingluck Shinawatra banned the Shakespearean horror movie 'Shakespeare Must Die', a Thai adaptaion of 'Macbeth', as damaging to national pride and a threat to national security. The filmmakers recorded their struggle to free their film in a documentary 'Censor Must Die, which received a historic ruling from the censors as being exempt from the censorship process, since it was "made from events that really happened." Even so, 'Censor Must Die' still couldn't be released as the censors also threatened to sue any cinema that would show the film. To find a way out of this Catch 22, the filmmakers set up Foundation Cinema Oasis to build and run a city-centre yet non-profit cinema and art space with the following aims:
 To constructively, sincerely and seriously promote creative freedom of expression in cinema and other arts.

 To promote, support and honour neglected and oppressed films, filmmakers and other artists.

 To bring back pleasure in art and joy in the communal cinematic experience; to foster cultural and spiritual immunity among the general public, young and old, to better withstand the dehumanising impact of all-encompassing consumerism and globalization.

 To support films and other works of art that inspire cultural tolerance, emotional sensitivity and spiritual subtlety in Thai society and the world.

 To inspire constructive conversations on creative freedom of expression and related issues such as the role of cultural colonialism, deep history and propaganda.

 To co-operate with other art and cultural institutions in healing and strengthening the Thai art scene.
 .
.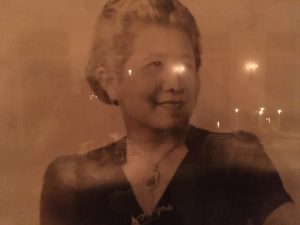 Khunying Nueang-Burinavaraj
.
.
……….

The centrality of the location is all due to the foresight of Nueang Singhaseni (Khunying Nueang-Burinavaraj), who scrimped and saved her profits from selling homemade cosmetics to buy the land for 2 baht a square wah before WW2, when Sukhumvit was still a canal running through orchards and ricefields.  The foundation is named in honour of the sacred pool that once existed in Sukhumvit Soi 43, whose only remnant is the palm-fringed waterhole in the back garden of Cinema Oasis.