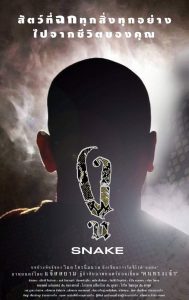 SNAKE
Thailand, 115 mins., 2020, Thai with English Subtitles
Stepping through the looking glass, in this case the romantic exotica of a Tourism Authority of Thailand poster, into rural dystopia where snarky evil rules in subtle and brutal forms, we enter a beautiful riverine community with a traditional Central Thai yodel (Ho-he-ho-he-ho…Hew!!!) as the decked-out
villagers welcome their new abbot. Young, handsome, radiant with sanctity in his neat prim saffron robe, he beams benignly as his boat procession glides towards the pier to be greeted by the official committee headed by the villainously-moustachioed kamnan or district chief. If you haven't read
Vimol Sainimnual's modern classic Thai novel 'Snake' on which this film is based, you might assume that one represents good and the other evil; that the two will proceed to duke it out over the village soul. But they are allies in social corruption, both instruments of oppression, two sides of the same familiar coin that every Thai instantly recognizes. The hero, a champion boxer, is elsewhere, in jail for murder; his luckless combination of rage and integrity has placed him there. We know his despair: the impossibility of existing in a putrid, devious world, where, to quote The Bard, foul is fair and fair is foul.
As happens with any cinematic adaptation of cherished literature, Vimol's fans might say it lacks the book's compulsive intensity (though Vimol himself is part of the production team). Maximalists might long for more gothic horror while minimalists might itch to scrub off the wall-to-wall carpeting of the treacly score. Nevertheless, 'Snake' exudes courage and sincerity in its dark vision of Thai life, which some of us know only too intimately. Just take the Beautiful Traditional Thailand flute music as an ironic counterpoint, as perhaps intended.
The twittering ladies who at first sight of their new abbot breathe," Oh, he's so handsome!" The abbot's attempt to extort yet more donation in front of a burning funeral pyre. The hero's mother's insatiable greed to improve her future karmic destiny by giving endlessly to the temple despite her own poverty. A coffin being carried in procession through the countryside at dusk (or dawn). These remain with us, but the most interesting scene has to be the 'tug-of-war over the husband', a cliché Thai soap situation not far removed from reality, except the 'minor wife' in this case is the comely abbot, who is paying a father and husband to stay in the monkhood indefinitely as his 'secretary'. It's a grievous sin to compell a monk to disrobe, someone warns the wife as she heads off for a final show-down with the abbot in his lair. You'll go to hell. Her spirited reply, a play on the old Thai proverb ("I'd rather lose a gold brick the size of my head than lose my husband to anyone"): "Hell is welcome to my head, but I refuse to lose my husband to a monk." The abbot calls her an 'anti-religion fiend' ('mara sassana', aka. Anti-Christ), and reminds her how Prince Sidharta forsook his wife and child to seek liberation and became the Buddha. Your husband (my lover) has set his sight on the ultimate prize, enlightenment, he preaches. We may well applaud her brave vow: "I shall be Father and Mother and Monk to my children." But we know that much of Thai society agrees with the monk, "the snake that takes away everything you have." Nice big English subtitles. (Alice Skinhead)
Director – Screenplay – Editor : JASSIAM
Cinematographer : Jane Burapha,  Visual Effect : Noie  Koravit
Cast: Apichat Chinpracha, Nont  Ratchanont, Nantaphong  Ulit, Possawat  Leksamma, Phorjate  Keanpech, Klailash  Kriangklai, Kovit  Wattanakul, Ratfah  Veerayupparat, Namrin  Pomluang, Lalita  Paisan
Producer : JASSIAM – Ladda Aiumsintorn, Natya  Thainprayoon