A retrospective of the films of  Henri-Georges Clouzot
Henri-Georges Clouzot (1907-1977) is one of the most acclaimed French moviemakers ever. Clouzot was visionary. He has continuously shocked, making his movies more radical, and even experimental.
(French with Thai & English subtitles)
***********************************************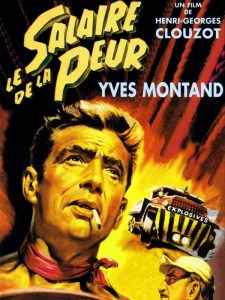 Wages of Fear,the (Le salaire de la peur)
146 mins / France, Italy / 1953 - French, English with Thai & English subtitles
When an oil well owned by an American company catches fire, the company hires four European men, down on their luck, to drive two trucks over mountain dirt roads, loaded with nitroglycerine needed to extinguish the flames. The film brought Clouzot international fame—winning both the Golden Bear and the Palme d'Or at the 1953 Berlin Film Festival and Cannes Film Festival, respectively.
Based on Le salaire de la peur by Georges Arnaud Directed :
Henri-Georges Clouzot
Produced :
Raymond Borderie
Screenplay :
Henri-Georges Clouzot, Jérome Geronimi
Starring :
Yves Montand, Charles Vanel, Folco Lulli, Peter Van Eyck
Music :
Georges Auric
Cinematography :
Armand Thirard
Edited :
Madeleine Gug, Etiennette Muse, Henri Rust
Presented by Institut français, Special thanks to The French Embassy (Thailand), La Fête, Alliance Française Bangkok