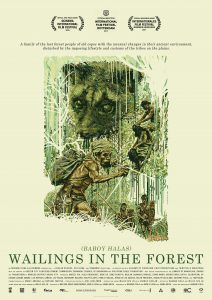 'Wailings in the forest'
105 mins, Philippines - 
English subtitles A former rebel commander in Mindanao told filmmaker Bagane Fiola a "beautiful and untamed" fable of his Moro ancestors. From this seedling sprouted this freaky cinematic gem. Pressured by the imposing lifestyle and customs of the tribes of the plains, the last forest people of old cope with change. Brilliant, immersive and profound, sane and insane, deep in this wailing forest of a movie we seek our human past and find our human soul. It's incomprehensible how a film of such magnitude should remain overlooked by the world despite its lush beauty, darkest humour and lavish reviews ("
It raises an existential question for the sanity of men."
– Philip Cheah;
"Journey to the forest, a
journey to the past."
– Rudolph Ian Alama). Perhaps because of its disturbing originality: when people have never seen something before and don't know what the 'cool' response should be, they just ignore it, to their great loss. Better surrender to the dark green magic, it's unmissable.
Director    : BAGANE FIOLA
Writer       : Bagane Fiola Producer  : Origane Films (Bagane Fiola) and QCinema
Key Cast   : The Matigsalug Tribe of Davao City, Philippines
Director Statement
Early last year, I worked on an experimental documentary film. It was during the early phase of its production that the conception of "Wailings in the Forest" was developed. On our first day of shooting in Mindanao, the southern part of the Philippines, I was fortunate to have listened to a wonderful fable told by a former rebel commander. He seemed to have mastered the art of telling the story of his Moro ancestors, passed on through a lyrical poem sang in their native tongue to each generation before it was written in Arabic in the 50's. The first part of the fable really lingered in my mind. It is the story of the origin of their clan; how their first father was impassioned to wake up every night just to fall in love with a beautiful nymph, which only his eyes can see. To others, the nymph appears as a mere pig. Eventually the story flourished beyond what I could imagine. Until "Wailings in the Forest" was produced, inspired by that wonderful fable. Though "Wailings in the Forest" is a different story, I think it represents cultures beyond that of the Moros', for boar hunting is a common practice of the Lumad (the indigenous people in Mindanao), such as that of the Matigsalug tribe. "Wailings in the Forest" had its international premiere at the prestigious 46th International Film Festival Rotterdam. I commend the filmmakers who, for 17 days, over 400 hours, roamed and braved the rainforest of Maharlika—one of the last forests in Mindanao—to capture beautiful and untamed stories that nature has provided us. With the blessings of Manama (god) and the guidance of the tribes people, the Wailings in the Forest lives on as we share it to the world.
Director Biography
Bagane Fiola is a Filipino filmmaker from Davao City. His latest film focuses on the survival of the Matigsalog tribe or the indigenous people in Mindanao--the southern part of the Philippines, and their struggle coping up with unusual changes in their environment. The film's aesthetics explore the boundaries between a documentary and narrative film.
AWARDS
- Winner of Special Newcomer Award at the 66th Internationales Filmfestival Mannheim-Heidelberg, Germany. - Nominated for 5 major awards by the Manunuri ng Pelikulang Pilipino at the 40th Gawad Urian 2017, including Best Sound, Best Production Design, Best Cinematography, Best Director, and Best Picture. - Winner of Best Cinematography and Visual Design cited by the Film Desk of the Young Critics Circle for the work of Raphael Meting and Mark Limbaga (Cinematography) and Joel Geolamen (Production design), 2017. - Official Selection (non-competition) at the 46th International Film Festival Rotterdam, Netherlands - Winner of the NETPAC Jury Prize and Best Artistic Contribution in Cinematography (Mark Limbaga & Raphael Meting) at the 4th QCinema International Film Festival 2016