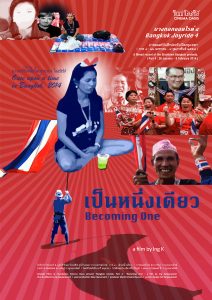 EXCLUSIVE to Cinema Oasis!
Bangkok Joyride 4:
Becoming One
165 mins, Thai, 2019
Thai & English with both subtitles
A filmed record of the Shutdown Bangkok protest, from 26 January – 8 February 2014.
What happened during the last elections, before the coup d'etat against Yingluck Shinawatra, Thailand's first woman prime minister?  Does anyone remember or pretend not to remember? Fortunately that doesn't matter, as this street history had a diligent and conscientious witness. Former investigative journalist and pioneering environmental activist turned filmmaker banned as national security threat Ing K went out to record the Shutdown Bangkok protest with a crew of one person and one piece of equipment, a cellphone.
This is not the story of the headlining stars, who are mere backdrop for the millions of real heroes and heroines—ordinary yet extraordinary people of every class, every age, profession and geographical region, now including farmers from upcountry who have reinforced the ranks of the Shutdown camps in central Bangkok to demand payment owed to them by the government's rice-pledging scheme. Amidst the threats and attacks, distortion, loss and injury, how did these people overcome their natural fear of death and, just as important for success, their rage for revenge? This challenge comes home to the filmmaker at a surprise run-in with the BBC's Bangkok correspondent in the heart of Asoke camp.
As events accelerate and darken, Part 4 of the Bangkok Joyride epic may lack superstars like Teacher Lily and be less 'Woodstock' than Part 3, but from the first it is filled with indelible images and moments of strange beauty. We experience it all directly, with no narration, unadorned, as the story emerges organically through scenes from the streets and TV news that clearly display their provenance. Part 4 covers many dramatic events, from the sniper assassination of protest and union leader Suthin Tharatin, the violent clashes at Laksi over Chinese New Year, and the elections of 2 February 2014.
Shot & Edited by Ing Kanjanavanit
Postproduction: Navi Hanumahn
Producer: Manit Sriwanichpoom
Starring: The Great Mass of the People
Supporting Cast: Yingluck Shinawatra, Jonathan Head, Chalerm Yubamrung, Suthep Thuaksuban & other protest leaders, etc.
Trailer : https://youtu.be/GLHxo6MuiNk