Golden Ganja Award: 
+++'SUPERPSYCHOCEBU'+++
Philippine/ Christian Linaban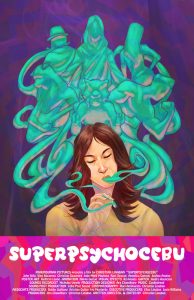 .
Crytral Bong Award:

+++'30k An Ounce'+++ Thailand / Sagar Singh Sivaraman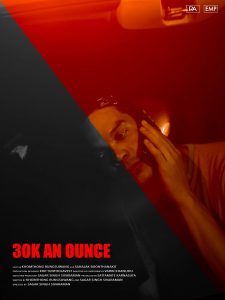 Amazing Stoner Movie Manifesto
At first there was some fearful resistance way back in March 2018 at a Cinema Oasis meeting when I suggested the idea of a stoner movie contest. It did seem a bridge too far. We're already taking on the battle for cinematic freedom, how stupid is it to jeopardize such a lofty mission impossible with something so…well, silly. The plain simple fact is I wanted to see a Thai stoner movie. The world has Cheech & Chong, Harold & Kumar, but no Piak & Odd, say. Ganja is our culture since "the days of King Louse"—when we were cavemen infested with lice. It's in our blood, our cuisine, our medicine, our relaxation; it's in the music of Kamron Samboonyananont. But no Thai stoner cinematic culture (except for the lovely smoked-out taxi scene in one of the great Mum Jokmok movies). Why is this? The obvious answer is the state censors' power to ban any cinematic behavior deemed to promote drug use and promiscuity, the questioning of the nature of reality and so the end of tin-pot civilization. Our simple prayer to see Thai stoner movies has been miraculously answered, as you can see for yourself. Amazingly, we've also received some lovely films from abroad including from Saudi Arabia, Japan, Italy, Korea, Germany, Philippines, USA and Malaysia. All here to celebrate the freedom to live our truth. But what is a stoner movie? This was the Golden Ganja question as we watched these exotic entries one after another. It's not just the dude stuff or the trippy images with disassociated dialogue. It dawned on us that what makes a film a stoner movie is its sense of reality, a certain observational distance—Zen detachment. They don't all show ganja on screen or even touch on weed culture, but they all have in common the state of being stoned. The point being: If contemporary consensus reality with its abusive half-truths is clearly losing its mind, artists, filmmakers and cinephiles have the right—even the dharma—to subvert and shatter that cherished mirage.
All we need is love.
Dr Alice Skinhead, programmer Cinema Oasis Amazing Stoner Movie Fest Bangkok, August 2019
---
--Amazing Stoner Movie Fest 2019 Programme--
'
Superpsychocebu
' (feature) – Sublime Filippino stoner movie quest for the Absolute, a total revelation. '
Texas Death Trippin
' (feature) – Stoner Jesus in a stoner chainsaw massacre & an unforgettable shower of ravioli from heaven. '
Reefer Madness
' (feature) – A tribute screening to the hilarious cult anti-marijuana propaganda movie. '
Isan Special
' (feature) – Cult Thai movie, Driven by absurdist melodrama, this is an unexpectedly profound hilarious satire of Thai psychology. '
Gagee: the Lady's Tale
' (feature) – Effects-laden experimental version of a classic Thai folk tale on the seduction of power ; wordless but potent. '
Fighting off Zombification
' (programme of short films) – There are actual zombies in some of them! Ganja vs Death, and munchie attacks. '
Fairy Tales Can Come Stoned
' (programme of short films) – Stalked by wolves and grief, Palm Spring Stepford wives & a dash to love and freedom. '
Reality Check
' (programme of shorts) – The sensitive & intelligent stoner guide to surviving material reality: getting busted at a checkpoint in the dead of night; a tour of Bangkok with your best stoner buddy; weed that's forced underground blocking the drain in Malaysia; a hotel wedding night with the veils off in Saudi Arabia. '
Trippy Inferno
' (programme of shorts) – Experimental psychedelia and a trek to the pyramids to exorcize the Evil Dimension's Mask of Gold.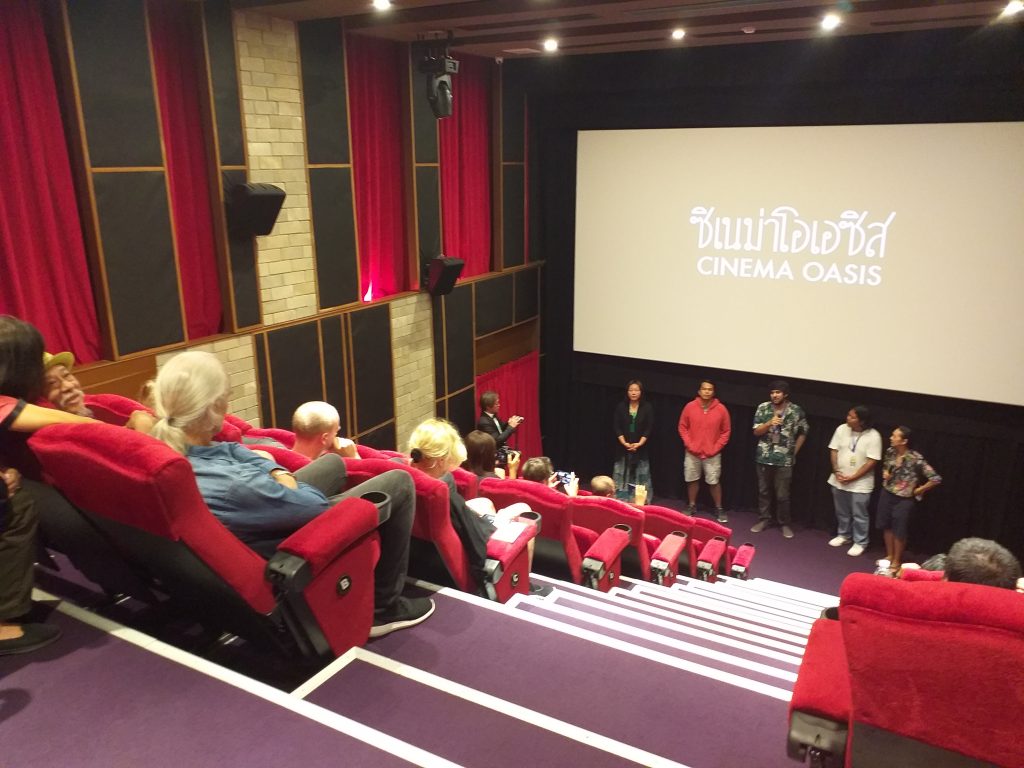 +++Screening Schedule+++
Thursday 8 August 2019
2 pm : 'Gagee : the Lady's Tale' (100min) 5 pm : 'Reefer Madness' (60min) 6 pm ---
Opening Party
--- 7.30 pm :
Reality Check
(81 min : 4 shorts) 9 pm : 
Fairy Tales Can Come Stoned
(77 min : 4 shorts)
Friday 9 August 2019
2 pm : 'Isan Special' (112 min) 4 pm :
Fairy Tales Can Come Stoned
(77 min : 4 shorts) 6 pm :
Trippy Inferno
(69 min : 3 shorts) 8 pm : 'Superpsychocebu' (97min)
Saturday 10 August 2019
2 pm ---
MovieTalk
: What is a stoner movie? 4 pm : 'Superpsychocebu' (97min) 6 pm : 'Texas Death Trippin' (64min) 7.30 pm :
Fighting off Zombification
 (70 min : 7 shorts) 9 pm : 
Trippy Inferno
(69 min : 3 shorts)
Sunday 11 August 2019
2 pm :
Reality Check
(81 min : 4 shorts) 3.30 pm : 
Fighting Zombification
 (70 min : 7 shorts) 5 pm :
Closing Party & Award Ceremony
Thai ganja legend Piak Lex Hip will announce the winner of the Golden Ganja for Best Stoner Movie. 8 pm :
Screening of the Golden Ganja winner
VENUE
Cinema Oasis 4 Sukhumvit 43,Bangkok 10110
Email : cinemaoasis.bk@gmail.com