Cinema Oasis programme 1:
Cinema Oasis opens with a mini-festival of 6 enrapturing and soulful films that take us far beyond simplistic Siamese exotica, contemporary or otherwise.  Despite their serious demeanour, these lyrical, immersive films absorb & entertain with searing truthfulness.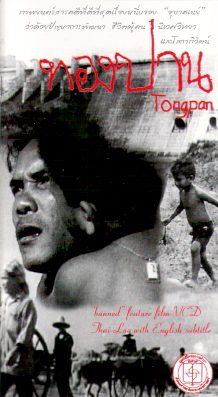 Tongpan
The 1970's underground cult classic like a crack in the earth, tells of a farmer's struggle against a US & World Bank mega project, a monster dam that steals his land and leaves him high dry. The great music is by co-director Surachai Janthimatorn aka 'Nga' of Caravan band, the "Thai Bob Dylan".  Anonymously directed by 4 illustrious filmmakers at the height of the Yankee Go Home wave in Thailand, this first outsider independent Thai feature is part of our liberation from Uncle Sam's Evil Empire.
60 mins; year of completion 1976
Directors: Paijong Laisakul, Surachai Jantimathorn, Euthana Mukdasanit; Writers: Kamsingh Srinok, Vitayakorn Chiangoon, Paijong Laisakul; Producer: Mike Morrow, The Isan Film Group; Cast: Ongart Maneewan, Pomhom Pilassombat, Ruangyos Chandrakiri, Surachai Jantimathorn, Saneh Jamrik, Sulak Sivaraksa, Rassamee Paolueangthong.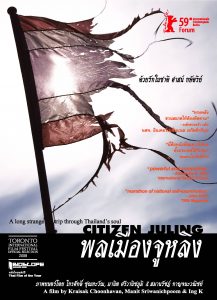 Citizen Juling
A long, strange trip through Thailand's soul with all its bizarre scenes, alongside a hippie human rights senator in the steps of an idealistic young Buddhist art teacher from Chiangrai who was fatally beaten, allegedly by burka-covered housewives, in Muslim-majority Narathiwas at the height of the Southern Unrest. (Best Picture Kom Chad Luek Awards)
222 mins, year of completion 2008
Directors: Kraisak Choonhavan, Manit Sriwanichpoom, Ing Kanjanavanit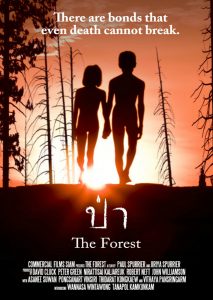 The Forest
This horror fairy tale has a gentle surface but packs an eerie punch as it reveals drop by drop the oppressive patriarchy of a remote village where a little girl living alone with her widowed father roams the forest with a strange and perhaps imaginary wild boy whose haunt is a sacred pool.
109 mins; year of completion 2015
Director: Paul Spurrier; Producers: Jiriya Spurrier, Niratisai Kaljaruek; Cast : Wannasa Wintawong, Tanapol Kamkunkam, Asanee Suwan, Pongsanart Vinsiri, Thidarat Kongkaew & Vithaya Pansringarm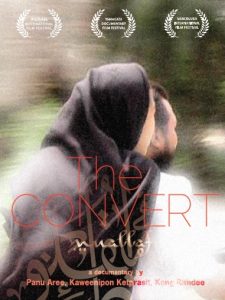 The Convert
To marry her Muslim boyfriend, June, a Buddhist girl, undergoes the process of conversion to Islam. If you're untouched by her sincerity as she adjusts to culture shock and married life, or feel nothing of her sudden sense of loss when the Imam tells her she can no longer bow to Buddha statues, you're made of stone.  A lovely film for an argumentative date.
83 mins; year of completion 2008
Directors: Panu Aree, Kong Rithdee, Kaweenipon Ketprasit; Cast: Thanwadee Hemara, Akasit Hemara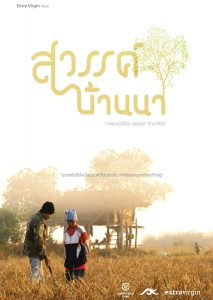 Agrarian Utopia
A year of rice growing with 2 utterly captivating farmers who, as they wait for the rice to ripen under glorious skies, forage for food in a way that would amaze Jamie Oliver. A ravishing experience. (Best Director & Best Cinematographer Supanahongse Awards, Asia Pacific Screen Awards UNESCO prize.)
122 mins, year of completion 2009
Director: Urupong Raksasad; Cast : Prayad Jumma, Somnuek Mungmuang; Producer : Pimpaka Towira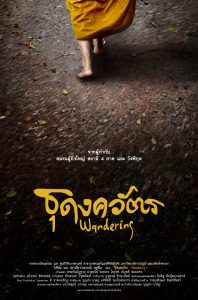 Wandering
A suicidal man seeking death or oblivion finds redemption in a forest monk and a young woman, in a lushly mesmerising tale by a veteran indie director who from personal experience knows the trials of wandering in the forest steps of the enlightenment-seeking Buddha.
121 mins; year of completion 2016
Director : Boonsong Nakpu; Cinematography: Urupong Raksasat; Cast: Yasaka Chaiyasorn, Phra Gammathan-pawattano, Anchalee Chobtrong