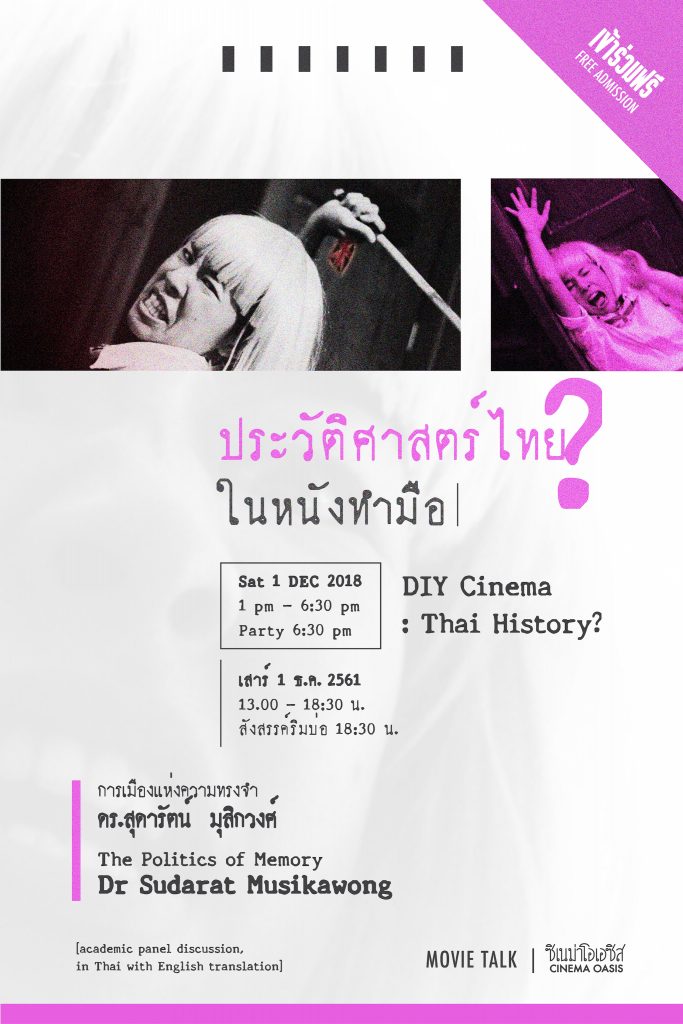 Movie Talk at Cinema Oasis
The Politics of Memory
Dr Sudarat Musikawong
DIY Cinema : Thai History?
[academic panel discussion, in Thai with English translation]
Saturday 1 December 2018
1 pm – 6:30 pm
Party by pond 6:30 pm
How enviable that foreign films have available to them the whole mother lode of historical sources and references. Such cinematic adventures with history is denied to Thai filmmakers. How do Thai filmmakers outside the system deal with this restriction? Are they propelled purely by their hunger for historical truth or compelled by other motives?
Dr Sudarat Musikawong researched cinema in the context of the politics of memory in Thailand, especially the so-called 'cold war' era of the 1970's. She will share her findings by screening selected indie short films and talking to the filmmakers about what drives them: 'Brief Moment in History' with Chulayarnon Siriphol; 'Silence in D Minor', 'Nothing to Say', 'Road to Peace' with Chalida Uabumrungjit; '6 Principles' with Apichon Rattanapayon; 'Silence Memory' with Pattaraporn Phoothong; 'Ma'am Anna of the Macaron Nipples' with Ratchapoom Boonbunchachoke.