MovieTalk: Sea Change
'The Third Eye' & 'Labour Ceremony'

Powerfully cinematic, extraordinary, these 2 Thai films are definitely not, like vitamins, "NGO docs that are good for you". Director Unaloam Chanrungmaneekul will share her experience of making 'The Third Eye' which views the changes in our sea through the 'sight' and touch of a blind old fisherman, amidst the local people's struggle against the Eastern Seaboard megaproject. She will be joined by Somnuck Jongmeewasin., Ph.D. Qualified Expert of Community Rights and Natural Resources, The National Human Rights Commission of Thailand (NHRCT) and Chanasorn Chaikitiporn, director of 'Labour Ceremony', which shows the strange world that awaits them as the sea continues to die and can no longer support the freedom of their ancient way of life.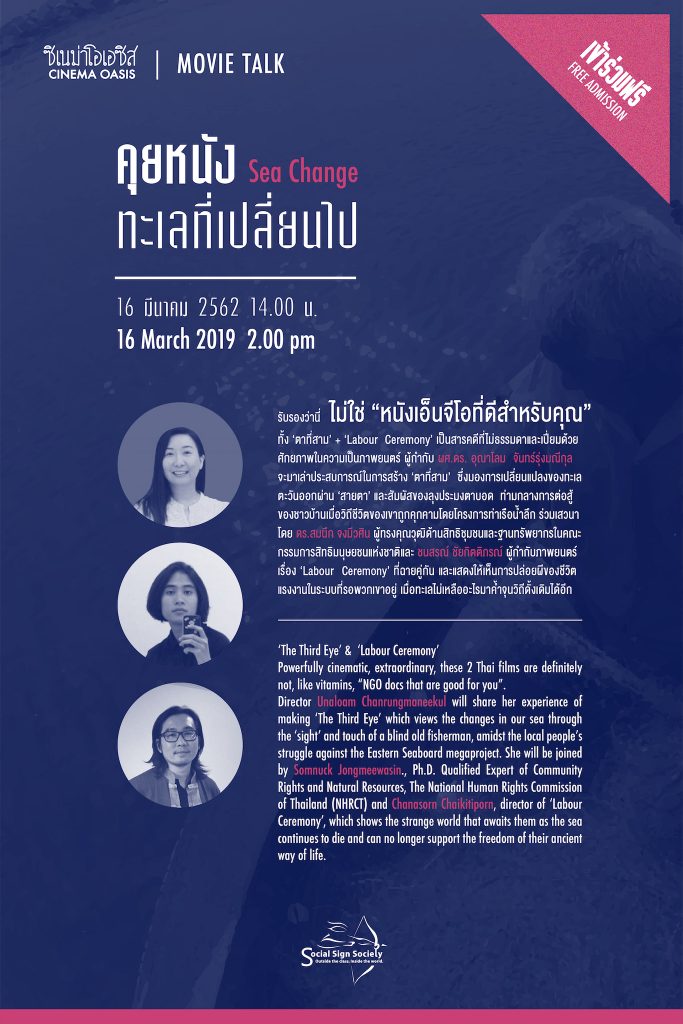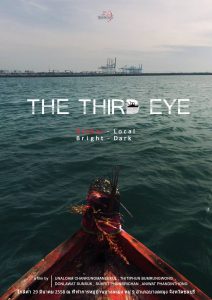 The Third Eye
Thailand, 2013, 64 mins
First thought: Oh, how beautifully shot this is, every meticulous image framed with such love and empathy. Then the dog comes walking up from the sea half-dipped in 'chocolate' muck, and your heart is lost. You are in Mab Ta Pud with the dog as its home is being obliterated by a deep-sea port industrial megaproject.
The amazing thing is, as indicated by the title of 'The Third Eye', the film is the POV of a blind fisherman besieged by world-ending, apocalyptic forces that seek to delete his existence. How sublimely he feels his way through his productive and absorbing life, making himself useful, untangling nets, untying knots, running out lines, pulling them up and untangling a fish perfectly unbruised from the net. He knows which fish are gone because he no longer feels them with his touch; he no longer gets to taste them.
The visual impairment is interpreted as almost monochromatic save for the soupy Gulf of Siam green of the sea. The blind POV is taken to a literal extreme when it's coming from a camera mounted on his head as he dives beneath the boat to repair, by touch, a leak. The upheavals in the village: the protests, the politics, none of it escapes his blind perception. But as he goes about his ancient life and livelihood, no one ever asks him what he thinks. We observe the battle with him, not on the frontline of human conflict but the frontline of life itself. (Alice Skinhead)
Director: Unaloam Chanrungmaneekul and Thitiphan Bumrungwong
Screenplay: Unaloam Chanrungmaneekul  / Director of Photography: Sukrit Phumsrichan and Donlawat Sunsuk
Editor: Thitiphun Bumrungwong / Sound: Donlawat Sunsuk and Aniwat Phandinthong
Producer: Unaloam Chanrungmaneekul
With cooperation with Film and Television School, Gen1, Burapha University, Thailand
++++++++++++++++++++++++++++++++++++++++++++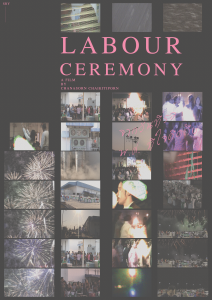 Labour Ceremony
Thailand, Documentary, 15 mins
'Labour Ceremony' shows the strange world that awaits them as the sea continues to die and can no longer support the freedom of their ancient way of life
Director / Shot / Editor : Chanasorn Chaikitiporn