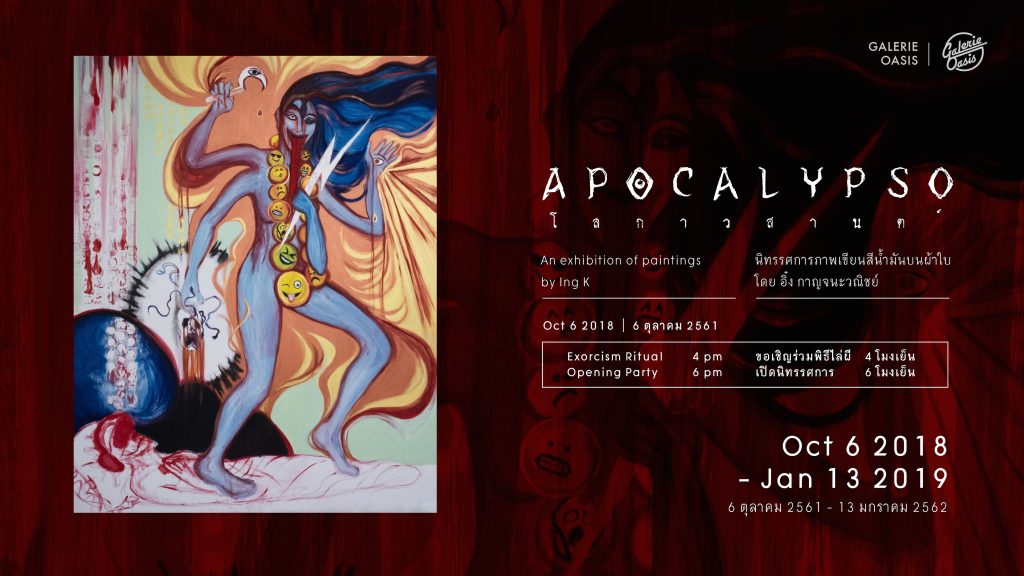 Galerie Oasis 
proudly present:
An exhibition of oil paintings
'Apocalypso'
by Ing K
6 October 2018 – 13 January 2019
Diving into Ing K's painting is like entering a cathedral and getting lost in a disquieting realm. Ing shakes us and pulls us out of our comfort zone. Few artists dare go to such a level of frankness, and don't seek to please or to provoke just for the sake of it. Behind each of Ing's canvases lies an inner vision, whether elated, melancholy or darkly prophetic. Her tableaux are mindscapes unearthing primal fears and urges. Their sheer power haunts us.
Made over a period of twenty years, Apocalypso's body of work transcends time and space. It is both jubilant and terrifying. It mocks and frontally tackles what is not frontal: the travesty of truth, the perfidy of hidden powers, and the dark side of each of us. Close to her mind are the tragedies that struck her country, and the growing concern that another one might come. Her painting denounces the desperate process of negating reality and reveals what she deeply fears: the "black and deep desires" of men of power.
The 'Apocalypso' images are intense with feeling: grief, melancholy and pain are painted on the canvases as if they were yantras being tattooed; each one inspired by the artist's own lost battles with the powers-that-be now leading the world to apocalypse. The colour red that appears in all her paintings record the blood tracks that have flowed all these years. It's possible to sense the pain waiting for absolution, yet Ing's work invokes prophecy rather than a curse of vengeance, by transforming negative energy into rich source of creativity for this series of paintings.
Ing K: "To make a horror movie…even a shoestring movie would require a guerrilla force. I find it interesting that one person with a brush, canvas, paint and oil can also make a horror movie. If you give them time and focus, paintings also tell tales. Paintings have movement, sound and special effects as bloody as any horror movie."
———————————-
Ing K (b. Bangkok 1959) is an artist, writer ('Behind the Postcard'; 'Banana String Thai Movie Diary') & one of the world's most banned filmmakers. Her group exhibitions include 'History & Memory: the Hook, the Line & the Sinker of Thai History 101' (2001) & 'Neo-Nationalism' (2005) at Chula Art Centre; 'Flashback'76: History & Memory of the October 6 Massacre' at Pridi Institute (2008); the XXIV Biennal Internationl de Sao Paolo; 'Art of Corruption' at Contemporary Art & Culture Office gallery. The paintings 'Coming Sea of Blood' (2005) & 'Dark Victory' were re-exhibited in Bangkok Art & Culture Centre's 'Traces of Siamese Smile' and 'Krungthep 226: Art from the Early Days of Bangkok to the Imagined Future'. 'Apocalypso' is her first solo exhibition.