Galerie Oasis
The City-Centre Art Space for Transdimensional Art
proudly presents: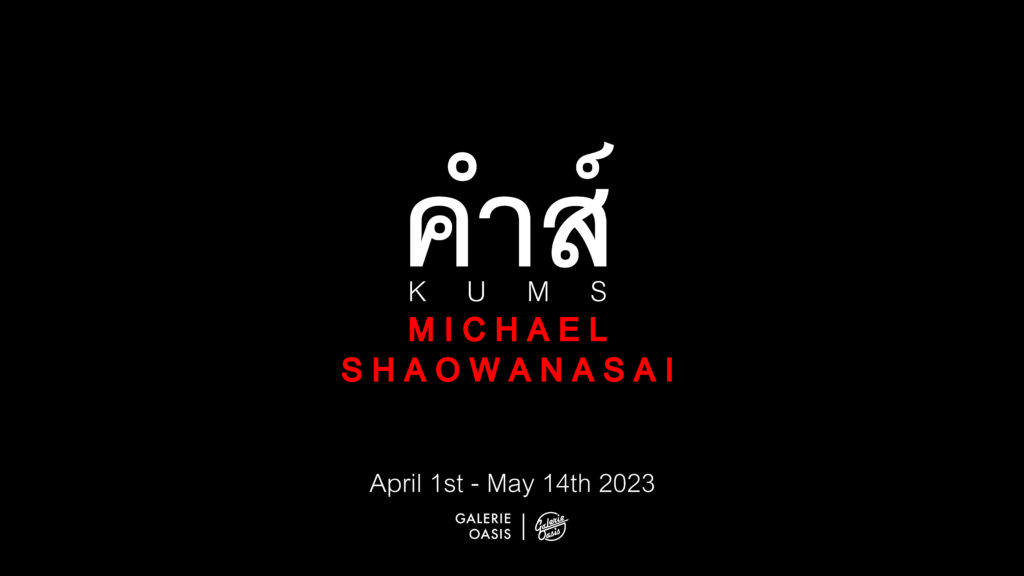 KUMS
An art exhibition by
Michael Shaowanasai
1 April – 14 May 2023
[Opening party Sat 1 Apr from 6.00 – 9.00 pm]
'KUM' is a transliteration of the word 'word' in Thai. We are presented with words – paired words or KUMS – on a flat background as paintings and novelty objects.
It may seem counter-intuitive but Michael Shaowanasai's 'KUMS' is the opposite of calligraphy, which is vibrant with controlled expressiveness. Here, the words are printed in clear fonts, bold and static; they do not flow or excite but confront, seemingly driven by the same compulsion that causes sufferers of Tourette Syndrome to spasm into sudden, explosive outbursts of expletives.
But the childishness of the puns in the transliteration reveals the possible source of the artist's inspiration. Like many of us trapped between Thai silk and pearls propriety and equally Thai anarchistic urges, Michael Shaowanasai, superhero alias 'Iron Pussy', gleefully lashes out like a child sticking his muddy finger into pies, just to hear the screams of outrage.
Michael Shaowanasai: "Paintings are plains or pages that usually contain detail and stories. In 'KUMS' I withhold part of the information to allow viewers to complete the picture for themselves, according to their ability, knowledge and subconscious thoughts. When printed on caps, T-shirts, bags, these messages of choice splashed across our front or back invite others to look and read what we are displaying. These statements can tell us plenty, and yet nothing, about the character and mind-frame of wearers."
Michael Shaowanasai is one of Thailand's most socially and culturally engaged artists. He received his BFA from San Francisco Art Institute and MFA from the School of the Art Institute of Chicago. Though most Thai people now know him as a famous movie actor, as an artist he has exhibited all over the world including at the Gwangju Biennale (2002) and Venice Biennale (2003 and 2009). He is also a respected filmmaker.
……………………..
Galerie Oasis, 4 Sukhumvit 43, Bangkok 10110, THAILAND.
(3 mins walk from BTS Phrompong)
Open only Thursday – Sunday, 11 am – 7 pm.
P: +66 (0)961122601, E: galerieoasis.bk@gmail.com,
W: galerieoasis.com, FB: galerieoasis.bk