Galerie Oasis
The City-Centre Art Space for Transdimensional Art
proudly presents:
.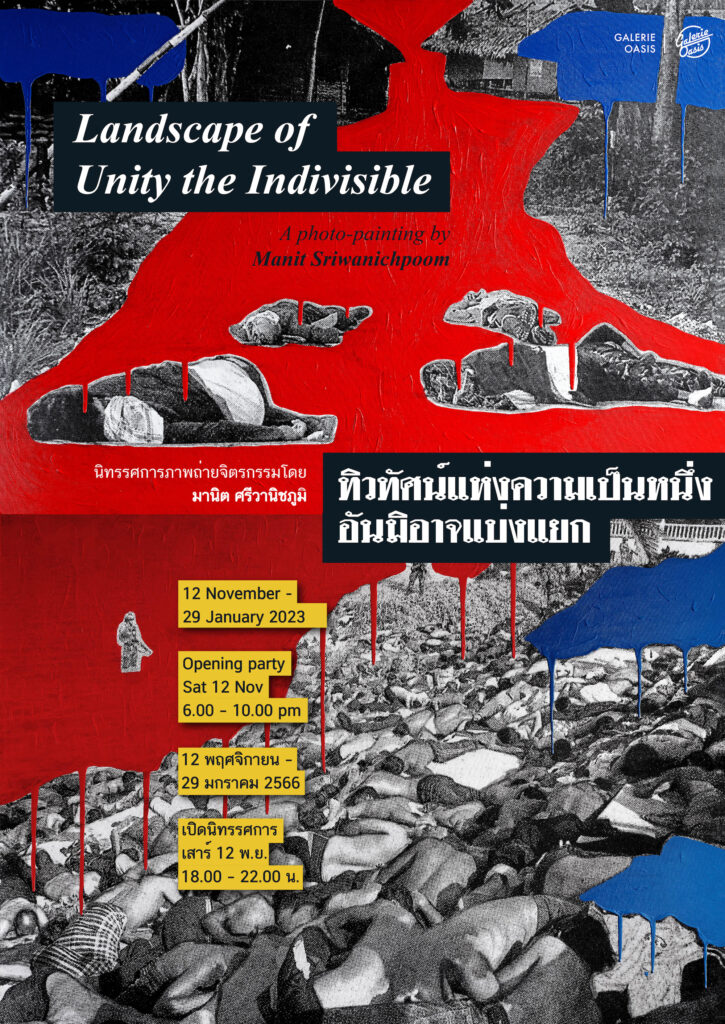 .
Landscape of Unity the Indivisible
A photo-painting by
Manit Sriwanichpoom
12 November – 29 January 2023
[Opening party Sat 12 Nov from 6.00 – 10.00 pm]
.
.
In 2004 during Thaksin Shinawatra's Premiership, the Thai army attacked alleged terrorists at Krue-se mosque in Pattani causing 108 deaths. Six months later another 85 Muslim protestors suffocated to death while under arrest, packed into army trucks like sardines. Although Thaksin's sister Yingluck Shinawatra's government atoned with financial compensations to the victims and their families, the people involved in these massacres have never been tried in courts with criminal charge. The statute of limitation in these two cases will expire in 2024.
This official apathy to pursue justice in these cases has driven photo-artist Manit Sriwanichpoom to extend his medium into the paint box to create large-scale photo-paintings from news photographs of the Krue-se and Tak Bai incidents in Thai newspapers by enlarging them into grainy black and white canvases, on which he then painted the red and the blue of the Thai national flag "to shock and irritate the viewer's eyes," as he says, so we would see and feel the violence of it anew. And we do. Justice by paint is what it is; by bringing back to us the intensity of this injustice, the distressing images have some how been given a cleansing of blood, impossible to achieve in real life.
Manit: "Thai authorities – politicians, military and civil servants, have their monolithic mindset of our nation's unity and indivisibility, their absolutist take on it. They still believe in the centralisation of rule; they believe that granting any degree of autonomy to Muslim majority provinces such as the three deep southern provinces will damage the country's sovereignty. In the 21st century, the concept of 'nationalism' is still a big question to people around the world."
'Landscape of Unity the Indivisible' is the first ever series of photo paintings by the well known photo artist. Manit Sriwanichpoom is one of Thailand's pioneering contemporary photographers, and having exhibited worldwide. His social and political works are collected by important museums including in the Maison Europeenne de la Photographie (Paris), DZ Bank (Germany), Asian Art Museum of San Francisco (USA), Fukuoka Asian Art Museum (Japan), National Gallery of Australia, National Gallery Singapore and private collectors.
……………………..
Galerie Oasis, 4 Sukhumvit 43, Bangkok 10110, THAILAND.
(3 mins walk from BTS Phrompong)
Open only Thursday – Sunday, 11 am – 7 pm.
P: +66 (0)961122601, E: galerieoasis.bk@gmail.com,
W: galerieoasis.com, FB: galerieoasis.bk