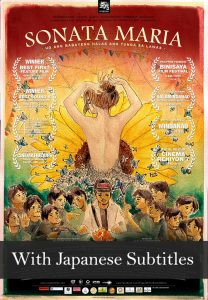 Sonata Maria
72 min, Philippines, 2014, Language: Bisaya and Tagalog
Subtitles: English & Japanese
The full title of this film is 'Maria and the Half-Snake Woman'. More of the Snake Woman later, but Maria is Redemption, in this filmed personified by a singer-songwriter, the only one of a group of old friends who has stayed true to her dreams, while the rest of the gang have succumbed to pragmatic careers and dreary futile lives in Davao City, first seen on a long backtracking shot as a typical candy-coloured Southeast Asian provincial town on a mellow sunny day, the civil war over for now.
Great things had been expected of Ramon, our protagonist, when he was born of jungle guerrilla parents on the same day as the Father of the Filipino Revolution. But here he is, on his 27th birthday, a boring no-future office boy. This cannot be my life! A war orphan raised by his grandma, who had once legendarily swallowed an egg that had fallen from a tree onto her head, he believed she'd swallowed a snake's egg and not a bird's egg as she thought, or claimed. The child had half-expected Grandma to turn into a snake. She did not, but the possibility of it has laid a curse upon him somehow. "The Devil wants to play tricks on me!" he mutters, as he seems to be always dreaming awake or awakening from a dream into another dream.
The shadow of Grandma's curse is invoked by a stereotypically (at first) smokey CU. of a witch intoning a prayer backwards while a pure white chicken is offered in blood sacrifice. The chicken's neck is wrung and sawed through to gleeful shrieks of violin. In the forest four wood nymphs in thin white shifts converge from four directions to lay the now roasted chicken, stuck with a candle, as a birthday gift offering at his feet. They are wearing the black raven-like masks of medieval plague doctors and corpse-removers. They are Death from Contagion, in his case from profane contact with the mundane, the death of his dreams and the futility of such a life, and they are calling his name. But Ramon cannot wake up. He's going to kill someone; he's going to kill himself, unless he can reconnect with Maria.
He dreams of her in golden fields, putting up her wild hair in a bun. This is the fantasy born of desire, the yearning for his true, misplaced, soul. The reality is an old faux gypsy woman fortune-teller putting up her hair in a bun in the dark with aged hands encrusted with rings. But it is all a show. Her face, her voice, her prophecy are all disappointingly prosaic and banal. He confesses his witchy dreams; she repays with harmless platitudes. The eyeliner, the scarves—all that drama for nothing. More banality in store when he finally tracks down the Snake Woman, advertised on show in a disco-lit nightclub tent in the forest, "cursed by not following her heart". There is no mystery in these self-created dramas. The witch is not spelling a curse. Grandma is merely saying grace to thank the Lord for His Bounty, enabling her, for instance, to eat roast chicken.
Those who have been entranced by Bagane Fiola's enigmatic masterpiece, 'Wailings in the Forest', might be surprised by the chattiness of this, his first film, as he finds his extraordinary voice and vision. First films are often flawed but even the flaws have a disarming purity and sincerity of spirit. (Alice Skinhead)
Directer : Bagane Fiola
Screenplay : Bagane Fiola, Melona Grace Mascariñas, Margaux Garcia
Editer : Bagane Fiola
Cinematographer : Mark Limbaga, Wrap Meting
Sound design : Maki Serapio
Music : Jad Montenegro
Production Design : Mandy Velasco, Bagane Fiola, Orvil Bantayan, Louie Daniel
Make-up and wardrobe : Mandy Velasco
Produced : Bagane Fiola, Raphael Meting
Production studios :
Oya Film Productions
Timewrap Films
Origane Films
Cast : 
Johnny Hager / Pk Whittmer / Ferdinand Mesias / Christianne Falcon / Gail Royeca / Teodora Eneluna And Maria Morales
With Special Participation by
Michael Lu / Ricardo Villarobe / Lulu Amoradeaux / Jade Chloe Laquihon / Ruth Kathryn Jayne Laquihon
Awards
-Winner of Young Critics Circle (YCC) of the Philippines, Film Desk Best First Feature Film, 2014
-Winner of YCC Film Desk Best Sound & Aural Orchestration, 2014
-Best Production Sound
-Best Sound Design
-Best Musical Score Sound
-Best Cinematography
-Best Production Design